What is Gate.io code?
Gate.io is a code of two pats separated by "_", representing a certain amount of a specific asset on Gate.io. The amount or asset type of the code represents is determined when the code is generated.
To better understand the code, you may try the process of withdrawing as Gate.io Code and Redeem Gate.io Code.
Please note, with Gate.io Code, you may transfer your assets among Gate.io accounts instantly and fee free, but You can not use it to send any asset to a specific destination address.
How to withdraw using Gate.io code?
Take LTC withdrawal for example.
Access LTC withdrawal page first.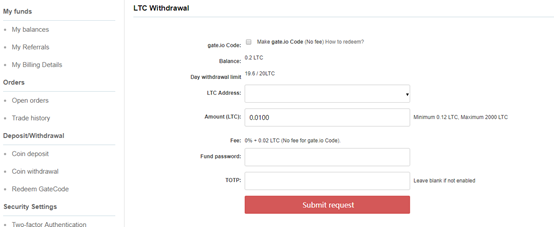 Click to check Gate.io Code box to choose to use this withdrawal method. Then fill the required fields and click Submit Request.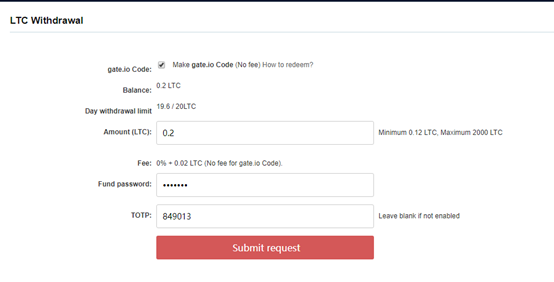 A code for this transaction will be generated. in this example, the code is LTC322E5ABF14D6E7D67FC74B9CD68A1-3A3C76FAF8A6EAD3103CD7DAC9D2DA38
You may see it consists of two parts separated by "-".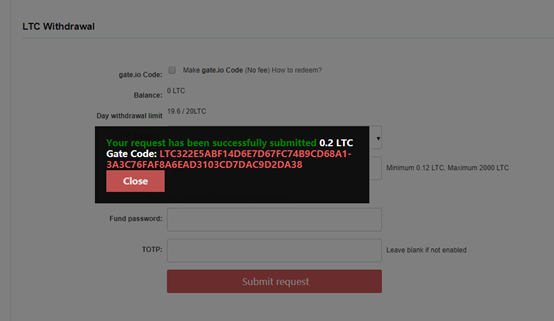 This is also recorded as a withdrawal record on your Account as below.

Hover your mouse on the code under the word Valid until the pointer becomes a hand, left-click, a dialogue box will pop up asking for fund password.
Enter your fund password and you can get the complete code.
How to Redeem it?
You may copy the code to redeem it on any Gate.io account.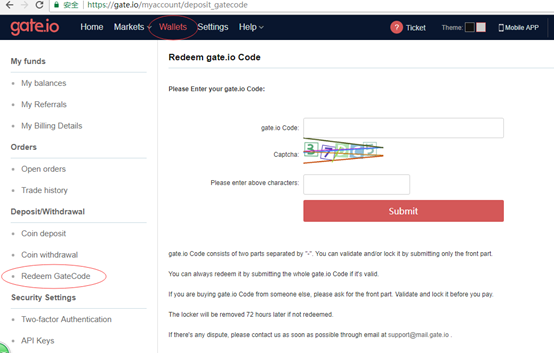 Enter into the front part (the part of code before "_"), you may check if the code is valid or not and lock it. This is an important step to help protect you if your code is buying from another one on Gate.io. You may check and lock it before you pay. locker will be removed 72 hours later if not redeemed.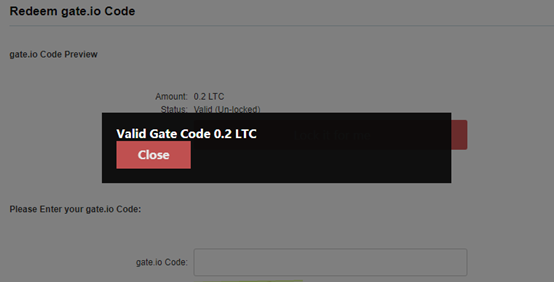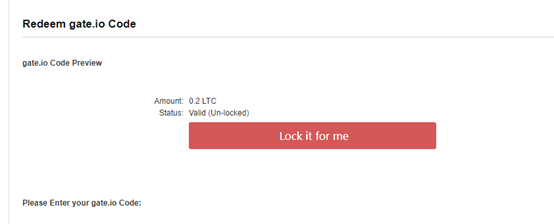 To enter the complete code, this transaction will credit to your account immediately.