How to withdraw XLM
Access XML withdrawal page first.( https://gate.io/myaccount/withdraw/xlm)
Then fill the withdrawal request.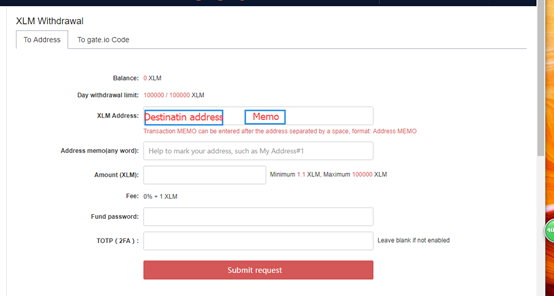 XML Address:
Enter your destination address memo, separated by a space
Example:
GDRSWSKJCIB6Z65UA7W5RG62A7M5K3A5IHMED6DYHLPLWLVQCOOGDQ7S 59391044
Address Memo: enter any word to help you mark the address so that you may know where this transaction is sent
Example:
My GATE.IO Deposit address
Amount: no larger than your available balance
Fund password: password for withdrawal and trading only.You may reset it with your email. Settings> Change fund password.
Please note, the fund password must be totally different from your login password
TOTP: One time dynamic code generated from your google authentication app linked to your gate.io account. You may sync the time on the app if there is any totp error
SMS code: code sent to your phone number via short message.