How to deposit Monero
1.Go to Wallet and select XMR deposit button to access XMR deposit page: https://gate.io/myaccount/deposit/xmr

2.Copy the address or scan the QR code to input the address as receiving address

Please note:
we are using a 106- character integrated address. No payment id is required. You may simply send your monero to that address and it will be credited after 12 confirmations.
How to withdraw Monero
1.Access to Wallet > XMR Withdraw page:https://gate.io/myaccount/deposit/xmr
2.Choose To Address and fill the withdrawal form.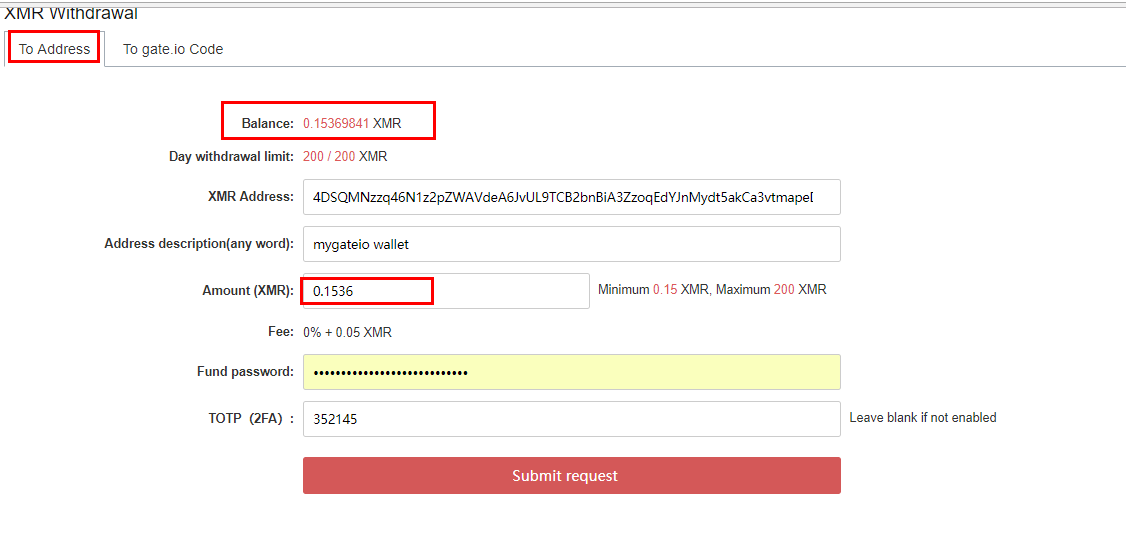 Balance: the available balance you can withdraw. The amount you are tying to withdraw in
Amount field can not exceed this amount.
XMR Address: XMR receiving address.
Amount: the amount you are going to withdraw. Use a dot instead of comma as a decimal seperator.

Fund password: your fund password.
This is another password different from your log in password.If forgot it, reset it with your email Setting> Change fund password.

TOTP(2fa): One time dynamic code generated from your google authenticator.

3.Click Submit Request to submit the application form. And the transaction will be sent shortly.

Please note,
as we are using integrated address wallet, no payment id is supported. If you need to send to another exchange where a payment id is required,you may send it to your local wallet first.