At Gate.io, you can enjoy our best service with lowest fees possible, no matter you are a spot trader, margin trader or a perpetual contract trader.

Deposit-- Zero Fee
No deposit fee is charged at Gate.io.

Extremely Low Trading fee --- Tier based discount and Maker-Taker fee schedule
Trading Fee Overview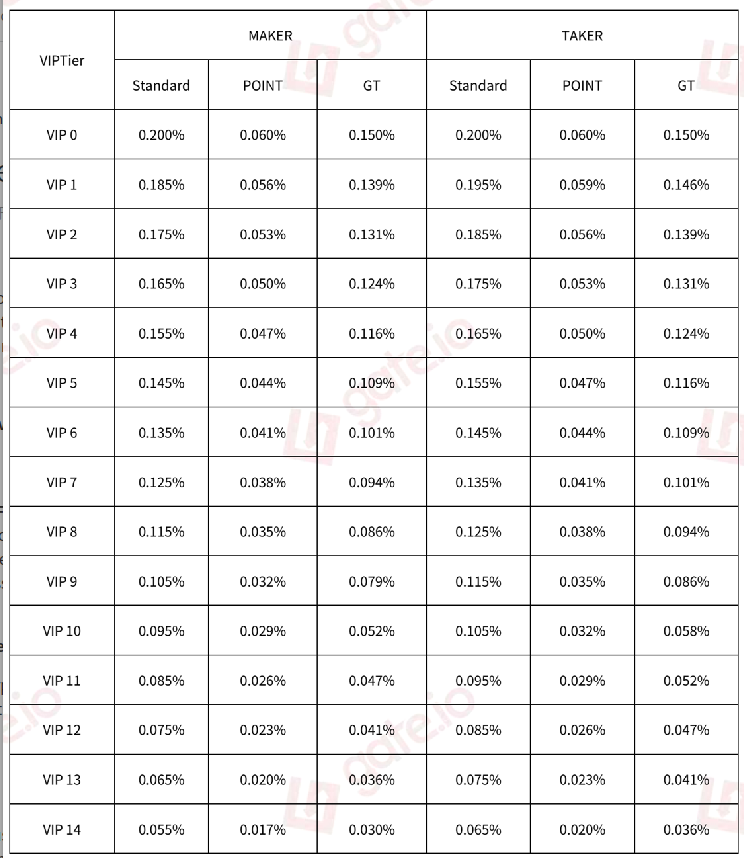 Please note:
1. 1 Point=1 usdt in trading fee deduction but the cost of 1 point is about 0.3 USDT based on OTC trading. So we multiply 0.3 to calculate the effective fee when using Point
2.If enable GT debit, you can debit trading fee from GT balance to enjoy an further off from standard fee percentage.
Low Withdrawal Fee
For a majority of coins , fee is charged per transaction, regardless of the amount you are withdrawing. While withdrawal fee varies for each coin, fee is low in general. Please log in your account and access the withdrawal page for the coin you're interested to check the fee.
.
Low Fee for Perpetual Contract Trading
Trading fee for Perpetual Contract:
For perpetual contract, we use a Maker-Taker fee schedule, where takers pay fee and makers receive a fee rebate.
Maker : -0.025%
Taker : 0.075%
Further discount using Point
If you have Point in your contract account (transfer it from exchange account to contract account first), you can use Point to cover part of the taker fee.
For taker fee, 0.025% will be paid in BTC-- that part will be given to the maker as a reward.
The remaining part, 0.05%, can be paid by Point. 1 Point=1 USD in fee deduction. We will use BTC_USD index price as the exchange rate to calculate quantity of points to be deducted.
Trading fee is charged based on the position value, irrespective of the leverage.