Gate.io Periodic Investment plan uses a USDT-cost averaging strategy to buy cypto-currencies portfolio. Users can invest a fixed amount of USDT in crypto-currencies portfolio at a designated time, weekly or monthly or at any other designated period, repeatedly, whether the price is high or low. When the price is high, the bought crypto-currencies portfolio is less; when the price is low, the bought portfolio is more
For the invested portfolio, users can redeem it whenever they want, in part of full.When they want to redeem any portfolio, the engine will place an immediate-or-cancel order at a limit price 99% of the last trade. If there is any unfilled portion, the engine will repeat the process 1 minute later. This method can help eliminate market impact posed by large order, and provide users more favorable earnings .
Fee:
No management fee. The only cost is trading fee for buying or selling portfolio.
Trading fee can also be paid in Point. 1 point= 1 usdt in fee deduction. As the real cost of 1 point is much less than 1 USDT, using Point can substantially reduce the cost .
Risks
Not principal guaranteed.
The periodic investment does not guarantee a minimum return of principal. Users can loss its principal when the valuation of the invested portfolio is lower than its cost.
Not timing market
The price of the portfolio is subject to change. It may rise or fall dramatically. Investing in a portfolio repeatedly at a set time and interval can not guarantee that the price at that time is a favorable price.
3. Not necessarily more profitable than lump sum
It may cost more than lump sum in some scenarios, especially when the market keep rising all the way.
Liquidity risk
Though we will use an immediate -or -cancel order to redeem the portfolio in an attempt to reduce market impact, chances are the price may not be a desirable one due to a thin market; and the time for redemption may take longer than expected.
Why Gate.io Periodic Investment plan?
No one can time the market perfectly. Use a usdt cost averaging strategy to invest in cyrpto portfolio over a long term can smooth the cost.
No management fee or any other hidden fee. What you need to pay is trading fee.Even the trading fee can be further reduced by using a Point.
Redeem any portion, redeem at any time
You may redeem the invested portfolio whenever you want. You can choose to redeem a portion of it or 100% of it.
Set a flexible portfolio with popular coins.
You may set your own investment plan with a combination of coins you like. And you may set the percentage of each coin in the portfolio.
How to invest?
Go to Finance> Auto-investment page.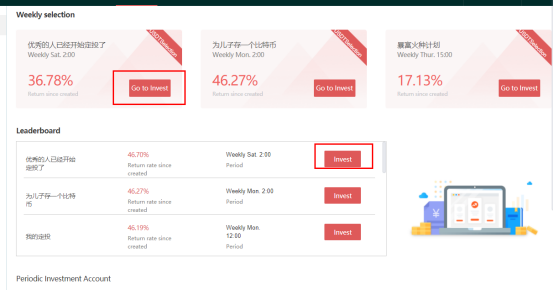 You may edit your own investment plan based on an existing plan or create a new plan from scratch yourself.
Click Go to Investment to access to an existing investment plan.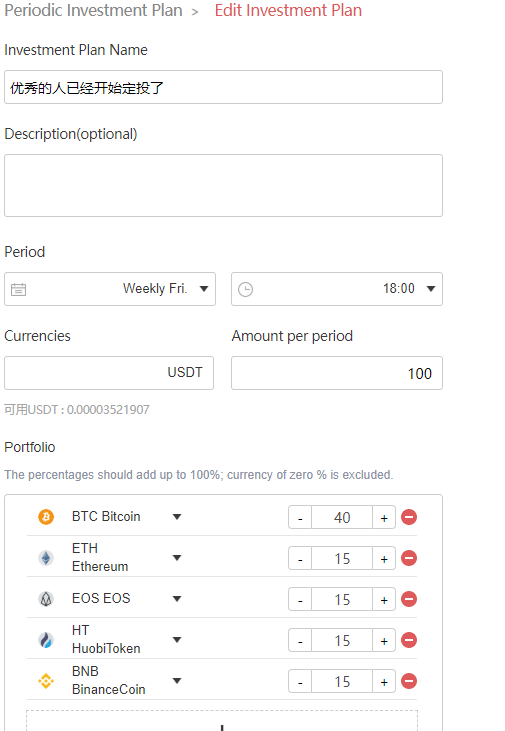 You can edit time and coin portfolio to make your own desired plan and change the name and give it your own description if you want.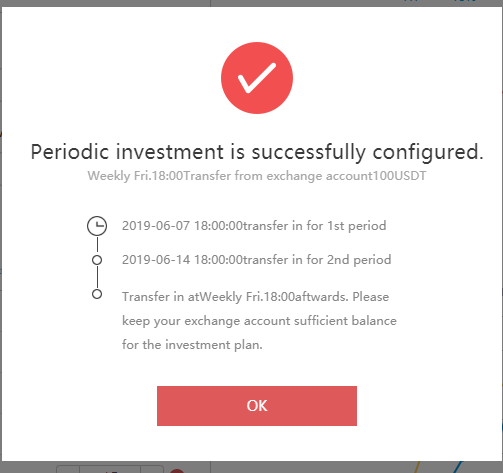 Click Ok button to submit your plan.A success message will display after you submission. Double check it and click Ok.
The plan will display under My Investment tab .
This plan is to invest 100 USDT into the portfolio at 18:00 every Friday.
You have to keep 100 USDT balance at your exchange account at that time. Otherwise, the investment can not be made successfully.
You can also backtest the gains of your investment plan and compare it with that of BTC.
Please note, the backtesting is using historical data. It can not guarantee a profit in the future.